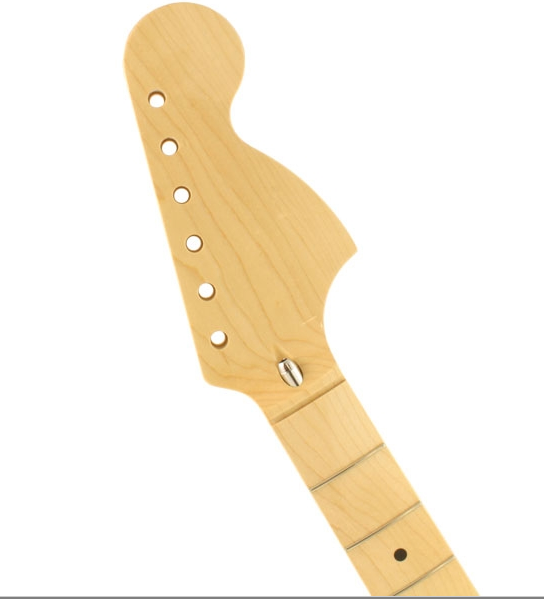 Allparts LMF Large Headstock Maple Replacement Neck for Strat
CBS style large headstock replacement neck, all maple construction with poly finish.
21 frets (.079" X .051")
Solid Maple neck, polyurethane finish
7.25" radius
1-5/8" nut width
2-3/16" heel width
0.340" Tuning peg hole diameter
Bullet Truss rod adjustment at head
Neck thickness 0.87" at first fret, 0.96" at twelfth
All necks are made of the highest quality wood in either the United States or Japan. No two necks are exactly the same and may differ slightly from what is pictured.  Unless otherwise noted, this neck is licensed to Allparts Music Corporation by Fender® Musical Instruments under a quality control trademark license. Allparts Music Corporation is not affiliated with Fender® and no Fender® warranty applies.
All necks may require fret leveling and polish, and may need to be fine tune to fit your instrument. This is normal and not a defect. All necks should be carefully inspected prior to installation and/or modification. All wood is unique with individual growth patters. Allparts cannot warranty a neck that does not get a sealer/finish put on it, as humidity, sweat, and temperature can cause the neck to warp and twist.