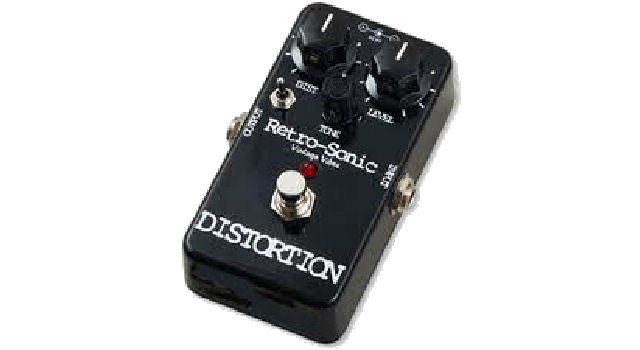 Retro-Sonic Distortion
The Retro-Sonic Distortion pedal is based on an LM308 op-amp design, and features true bypass switching, with Distortion, Tone and Level controls. Together, these provide a wide range of tonal possibilities, from subtly distorted blues tones through to classic rock and metal.
As added flexibility, Retro-Sonic has incorporated two internal trim pots to allow adjustment to the frequency response of the gain structure. This gives Distortion users the option to tailor the overall response of the pedal to taste, by reducing or increasing the mix of high or low end content. More tonal flexibility can be explored through multiple clipping options via a 3 position mini toggle switch, which selects symmetrical-diode, asymmetrical-diode, or LED clipping.
The Retro-Sonic Distortion is a professional quality effect pedal that recaptures the much sought-after 'vintage vibe'. It is a truly versatile and musical pedal design that responds to touch, producing a big, natural, harmonically rich tone that works with any guitar-pedal-amp configuration.