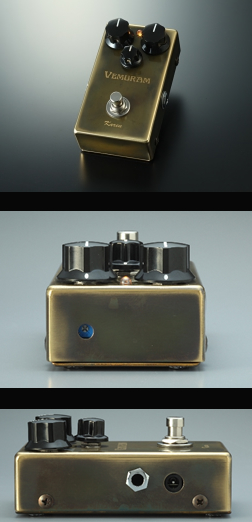 Vemuram Karen
Designed to recreate the overdrive of a mid 70's ~ early 80's Marshall!
THE Marshall sound. A full sound with natural compression without any high end loss.
The Karen replicates the fat full overdrive tone of the mid 70's to early 80's era Marshalls such as the 4 input JMP and the 2 input JCMs. It's an overdrive with thick saturation and a pleasant natural compression.
Controls: volume, gain, tone, gain range
Switches: On/Off
Terminal: input, output
Power: 006P (9v battery) or 9V regulated AC/DC adapter
Size: 70mm (W) x 112mm (D) x 50mm (H)
Weight: 425g