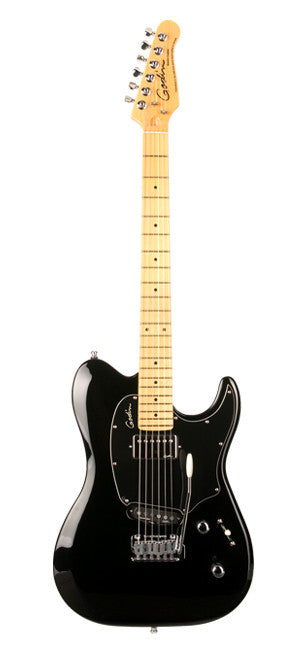 Godin Session Custom Electric Guitar w/Gigbag - Custom Black HG/Maple
Godin Session Custom Electric Guitar w/Gigbag
This is a guitar with tonal versatility that's right at home playing a multitude of styles of music. From alternative-rock, blues to country, the Session Custom is packed full of features and is ready to take center stage.

It features a Canadian basswood body, rock maple neck with maple or rosewood fingerboard, the Godin High-Definition Revoicer and the Godin Tru-Loc Tremolo system which allows players to regulate their own trem arm placement into a personal Custom Comfort Zone. The Session Custom features a beefy Godin Humbucker in the neck and the sweet Godin 'Custom Cajun' single-coil pickup in the bridge for added vintage punch & bite.  All of which are housed in a classic single cutaway body design and controlled via a 5-way switch, 1x volume and 1x tone knob.
Godin Tru-Loc Trem system
Allows a player to regulate Tremolo Arm placement via a simple allen key adjustment, which locks the arm into a personal Custom Comfort Zone. Arm stays firm & true while offering smooth & full mobility within players Custom Comfort Zone.

H.D.R. High-Definition Revoicer
The H.D.R. revoices and augments the frequency range of each pickup and allows the player to go from passive to active pickups
with the simple push of a button.

Th H.D.R. provides extra bite, dynamic response and redefines the
character of each pickup. It's like having 2 sets of pickups in 1 guitar!