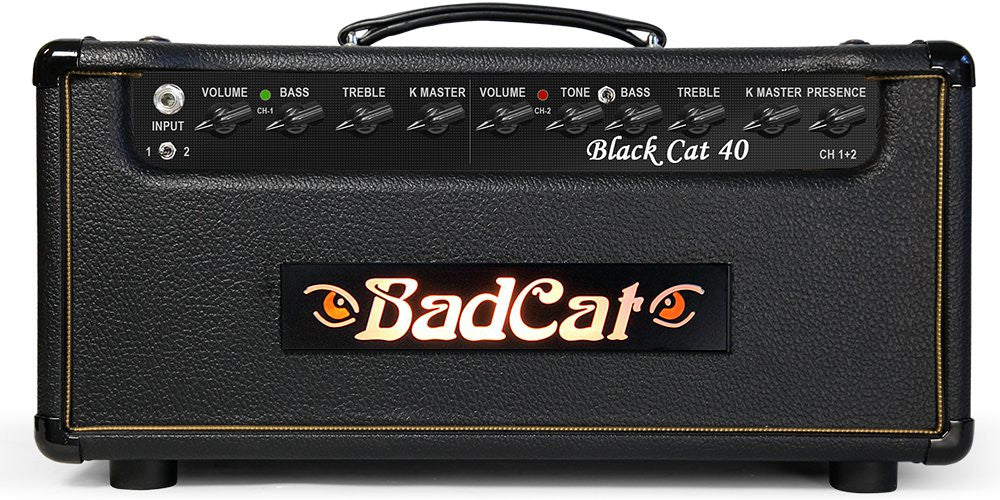 Bad Cat Black Cat 40
- Reconfigured to have a more ergonomic layout
- Improved Master Volume circuit to be more responsive
- Improved Reverb circuit for smoother and deeper tones
- Improved Half Power configuration
- 40-Watt
- 2-EL34
- Cathode biased
- 2-Channel EF86 & 12AX7
- Half power switch
- Foot switchable channel
- Effects loop
- Modeled & Improved from the Wild Cat 40
- Clean to medium gain
Two EL34's, Class A power section. Bold, aggressive and plenty of grunt and punch. Glassy highs riding over the top of the complex mids. The Black Cat 40 has two foot switchable channels. Channel one is 12AX7 based with a standard bass and treble tone stack. This channel is warm with punchy tight mids and lows. Channel one produces thick and richly complex tones with just the right amount of high-end glass sitting on top. Great for chunky rhythms or 70's style crunch tones. Engage the master volume, which can be switched in or out of the channel circuit, to get stage friendly drive. Each channel has its own master that can be switched in or out. Channel two is where this amp steps into its own. EF86 pre-amp pushed into either a five-way tone selector or a bass and treble tone stack, giving this amp a great flexibility in tone shaping. The five-way selector is a five-tone capacitor bank, that it switchable in five different values. Five different levels of low and mid control, gives you the ability to bypass the tone stack and essentially plug into the output power section. There is a three dimensional hi-fi feel to the sound. The mids are moved slightly forward and the highs become more transparent and clear. The amp sits in your hands more like an instrument.
Switch over to the bass and treble tone stack and get a sweeter more scooped type of tone. Beautiful cleans are to be had here, clear with lots of shimmer. Engage the master volume for channel two and push this is aggressive rock territory. Single note lines drip in harmonics, notes bloom and sing and allow you to play the amp like you would your guitar. Dual reverb controls and half power switch round out the features.