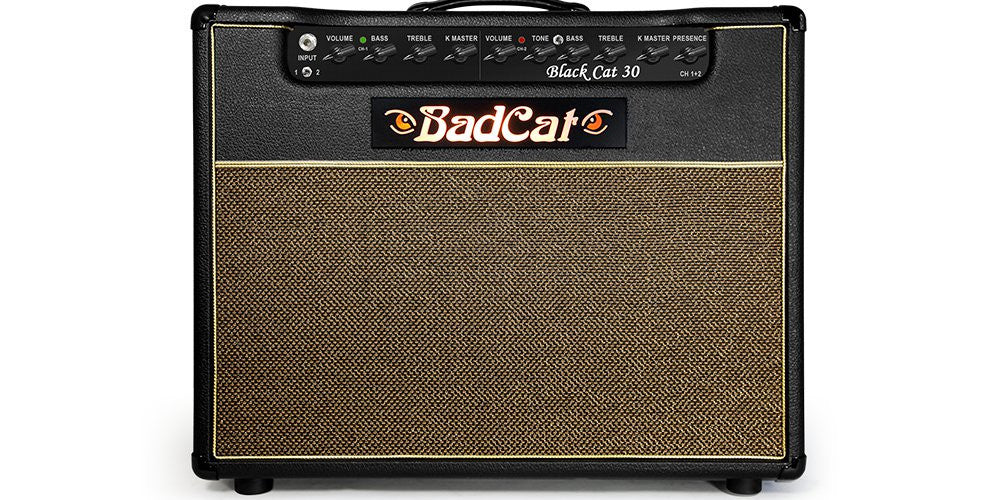 Bad Cat Black Cat 30
- Reconfigured to have a more ergonomic layout
- Improved Master Volume circuit to be more responsive
- Improved Reverb circuit for smoother and deeper tones
- Improved Half Power configuration
- 30-Watt
- 4-EL84
- Cathode biased
- 2-Channel EF84 & 12AX7
- Half power switch
- Foot switchable channel
- Effects loop
- Clean to medium gain
This is the one that started it all! The Black Cat's pedigree is well known. The amp of choice for countless arena acts. Huge chimey 3-D cleans. A sound so delicate yet ferocious when pushed. You have never heard lows like this come from an EL84 amp. The 12AX7 side gives lush sweet and complex mid-range that works from warm punchy cleans through tight crunchy growl. Engage the master volume and get the dirt at any level. Switch over to the EF86 and get a lesson in why the Black Cat is revered by so many diverse artists. Shimmering cleans that can be pushed lightly to fill the room with ghostly octaves and harmonics. Rev up channel two a little harder and push your sound into Class A nirvana. Note definition, highs that spray around the hall and a bottom end that never gets loose.
Dual reverb controls and dual masters that can be switched in or out of the circuit, half power switch which allows all of the magic to occur at manageable volumes, round out the refinements. Available in 30 or 15 watts. Experience why The Black Cat is played by some of the biggest artists on some of the largest stages in the world.