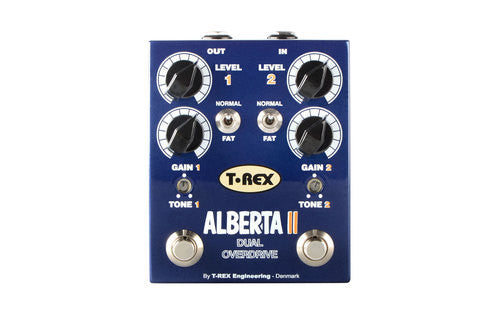 T-Rex Alberta II
Dual Overdrive
Since the introduction of the Alberta overdrive, guitarists have embraced the tonal qualities and ease of use of the pedal. So much, that quite a few are using two Albertas to get their fix on stage and in the studio, using one for creamy rhythm sounds and the other for a cutting solo sound. 

On popular demand from guitarists around the world, we give you the Alberta II! 
The classic overdrive sound has doubled in quantity, but the sonic footprint and physical size is the same, giving the user a three step rocket of creamy, responsive overdrive without sacrificing pedalboard real estate.

-The blue tone in a box!
-2 great transparent overdrives
-One less compressed, and open sounding
-Sounds like a quality tube amp braking up