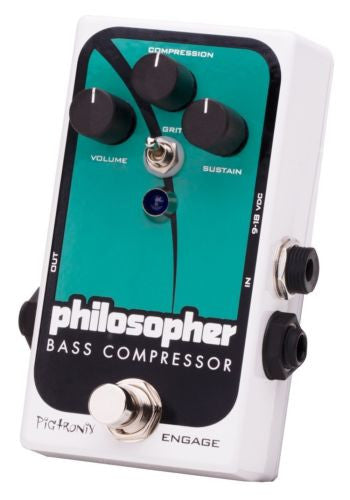 Pigtronix Philosopher Bass Compressor
Pigtronix PBC Philosopher bass compressor
Pigtronix Philosopher Bass Compressor brings the heralded Philosopher's Tone compressor circuit to bassists in a small size stompbox format. The sustain control on this pedal varies the compression threshold to provide everything from subtle peak limiting to infinite clean sustain, all with incredible low end response. The Philosopher Bass Compressor also sports a compression blend knob, mixing clean tone in parallel with the optical compression. This approach is far more effective than a typical compressor's "attack" control for preserving your natural string envelope to achieve transparent and musical results.
In addition to the wide range analog compression circuit with unrivaled sustain and parallel blend, the Philosopher Bass Compressor's GRIT switch brings in a harmonic distortion tuned especially for low frequency domination. Used with a tube or solid state amp or even straight into a mixing board, DI or DAW, the Philosopher Bass Compressor delivers a new level of control and power to bass players at an affordable price.
The Philosopher Bass Compressor features true bypass switching and runs fine on standard 9-volt power but ships with an 18-volt adapter for superior headroom, clarity, overall output and use with active basses. Never before has so much bass friendly compression been squeezed into such a small package.