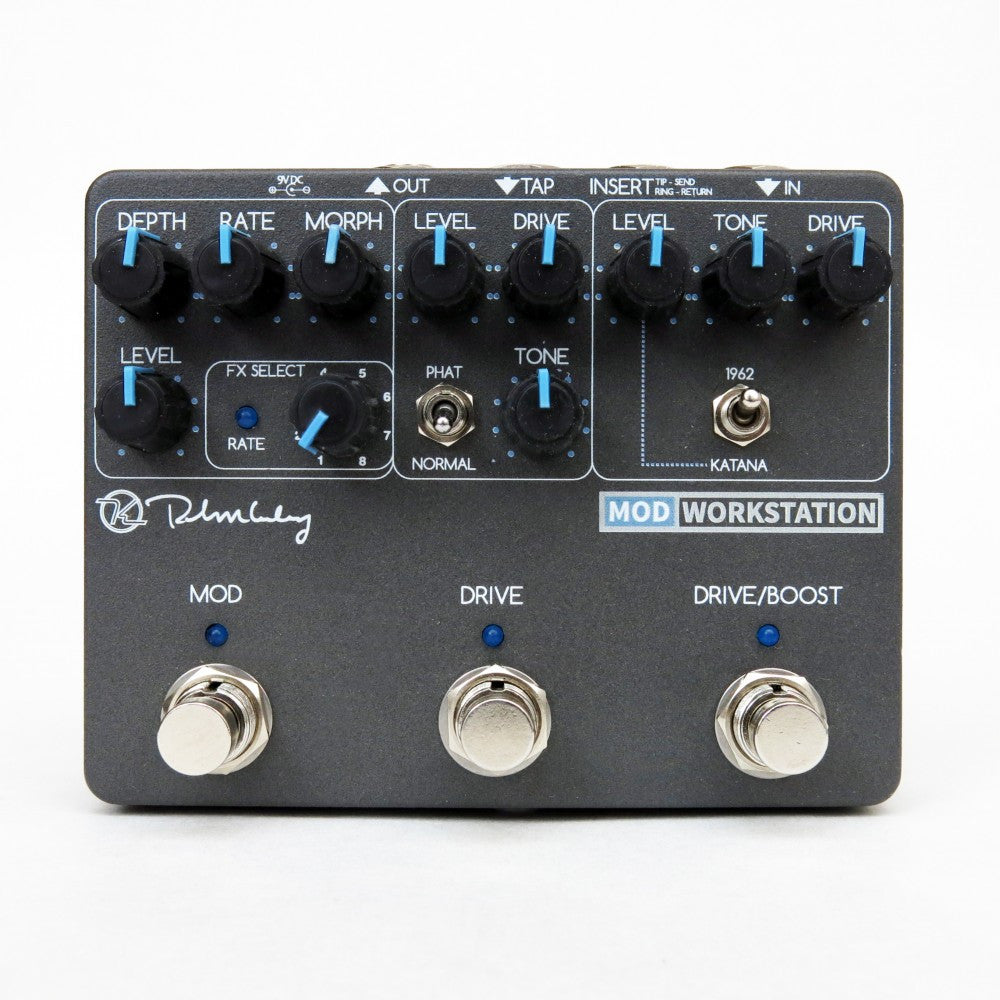 Keeley Mod Workstation
The Mod Workstation combines Keeley's two most popular overdrives, the 1962/Katana and the Oxblood along with a set of eight modulation effects, including Harmonic Tremolo, Phase, Chorus, Flanger, Rotary Speaker, and more.  Do you need just a touch of sheen or shimmer?  Set for ADT, Chorus, and Phaser.  If you need something vintage and full of vibe, try the Standard or Harmonic Tremolo, the Oscillating Filter or Rotary Speaker settings.  Want something wild?  Try the Flanger or the Random Sample & Hold Filter settings.  Typically these effects are best used after overdrives and distortions, so they match perfectly in the Mod Workstation.
Mod Workstation Modulation Effects:
1 Tremolo – Standard volume or amplitude modulation tremolo in which the Tone Control is the shape of the waveform.  The oscillator goes from triangle to square wave.
2 Harmonic Tremolo – Legendary tone from Brown Face amplifiers in the 1960s.  Your guitar's tone is cut into two bands–bass and treble–and then modulated with a pair low frequency oscillators (LFOs) that are out of phase with each other.  When these bass and treble bands are modulated by oscillators that are out of step with each other, the result is very intoxicating.  The Tone Control simultaneously moves the the Low and High Pass filters, giving you the perfect vibe for your rig.
3 Oscillating and Random Filter – Tone Control adjusts LFO in oscillating envelope filter.  It's like blending a vibe and autowah!  If you turn the Tone Control above noon it becomes a random sample & hold filter like the old Maestro units.  Perfect for the Frank Zappa Ship Ahoy sound.
4 Phaser – Tone Control adjust the feedback and richness of the 4 stage phaser.
5 ADT – the Keeley true-chorus Automatic Double Tracker.  Depth Control adjust the delay time from 0-60 milliseconds.  The Rate Control adjusts the tuning 0-60 cents.  The Tone Control is a blend control to add more of the doubled voice as needed.
6 Analog Chorus/Vibrato – The Tone Control is a blend control. Turn it CCW to give you Pitch Vibrato and CW to give you an analog BBD sounding chorus.
7 Flanger – The Tone Control adjusts the Feedback of the Flanger.
8 Leslie Rotary Speaker – Tone Control adjusts blend from Drum to Horn, perfect for fine tuning the timbre.