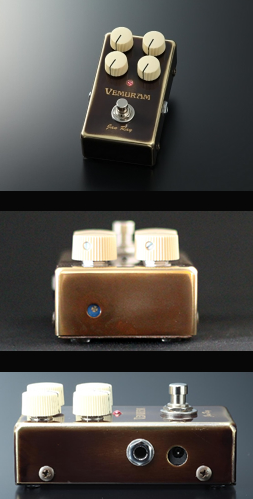 Vemuram Jan Ray
A firm natural overdrive with a pleasant silky sustain. THE Fender Magic 6 sound!
An easy to handle overdrive with great sustain without any unnatural compression. It keeps the characteristics of the tones that the guitars naturally produce.
The Jan Ray reproduces that great sustaining punchy clear tones of the blackface Fender amps from the 60's. The tone is crispy yet the low is warm and mellow.
Controls: volume, gain, bass, treble, saturation trimmer
Switches: On/Off
Terminal: input, output
Power: 006P (9V battery) or 9V regulated AC/DC adapter
Size: 70mm(W) x 112mm (D) x 50mm (H)
Weight: 428g